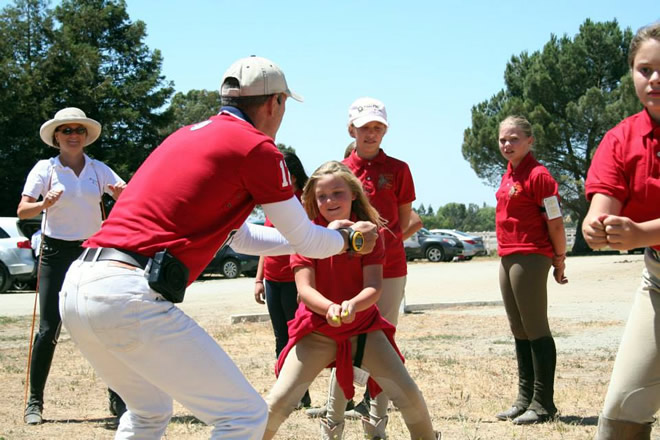 Golden Hills Pony Club is a chapter of the United States Pony Club (USPC), and is in the Middle California Region (MidCal). We are located in Southern Santa Clara County with our members coming from Morgan Hill, Gilroy, Hollister and beyond. We are a multi-generational community of equine enthusiasts with a focus on youth. Our mission aims to develop character, leadership, teamwork, confidence, respect for self and others, horses, land and service. We are a community that teaches the care of horses and ponies in mounted and unmounted sports through participation and example.
Our Pony Club members participate in a wide variety of activities, including mounted and unmounted instruction, clinics, rallies, volunteer activities and fundraisers for children and adults. We emphasize good horsemanship practices with respect to healthcare, nutrition, stable management, handling and riding a mount safely, correctly and confidently. During "unmounted" meetings members learn about feeding, shoeing, veterinary care, and other areas of horse management.
We are currently meeting the 2nd and 4th Sunday of each month for mounted meetings or horse management lessons. We work with several trainers at many local Gilroy and Morgan Hill barns. Most of our members also have regular riding lessons/training outside of the Pony Club instruction they receive.
Pony Club members are encouraged to work their way through the ten stages of the progressive Standards of Proficiency, which test knowledge and riding ability. Progress is at an individual pace so students can achieve personal goals and also expand their knowledge through teaching others. Pony Club members who attain the B, H-A, and A rating levels meet standards of competence that are recognized internationally. The USPC mission is to teach safe, effective riding and horse management/care while providing an opportunity for fun and friendship.